About us
ID card
Preschool ,,ZVEZDICA'' is situated in a quiet street in Vozdovac, near Trosarina, in the immediate vicinity of Banjica's forest and Sport center "Banjica" . Around our preschool house there are a variety of social institutions like "Filip Filipovic" primary school, "Filip Visnjic" library... In the immediate vicinity there are preserved old craft shops, which can be an incentive for research and teaching children.
Space and conditions
The renovated house where preschool is located is preserved and high- quality house. It has favorable conditions for the care of children outside, because in the last part of the building is a large courtyard. At both levels of the house, above the courtyard, there are two spacious and adequately furnished terraces, which will be used to care for children. We will create and encourage conditions that the space belongs to the children that exudes a good atmosphere and gives the possibility of multipurpose use and research. The selection of equipment and educational resources were made based on the legal regulations and the need to implement the planned programs.
Work organization
Working hours of institution will be from 07.00 to 17.30h.
Schedule of activities during the day will be flexible, adapted to the characteristics of the age and needs of children, so that children of all ages provide optimal conditions for staying, food, rest, stay outside and educational activities.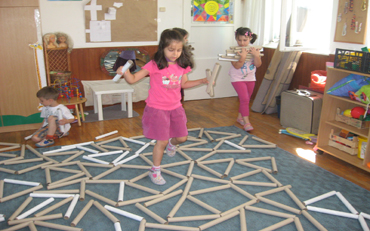 About programs
The institution will be implemented the following programs:
PROGRAM OF PRESCHOOL EDUCATION

PROGRAM OF CARE AND EDUCATION OF CHILDREN AGED UNDER THREE YEARS
PROGRAM OF PRESCHOOL EDUCATION OF CHILDREN FROM 3 YEARS TO INCLUSION IN PREPARATION FOR SCHOOL PROGRAM
PREPARATORY PRESCHOOL PROGRAM
CO-OPERATION WITH FAMILY
PROGRAM OF COOPERATION WITH THE LOCAL COMMUNITY
NUTRITION PROGRAM
PREVENTIVE HEALTH CARE PROGRAM
PROGRAM OF PROTECTION OF CHILDREN FROM VIOLENCE, ABUSE AND NEGLECT
Expert team
Professional team will be composed of highly qualified professionals to work with pre-school children, teachers and nurses. The institution will maintain: an expert in pre-school education, with many years of experience working in preschools and in college for the education of teachers, as well as an art historian.